What is the problem you are having with rclone?
Using rclone to sync to a B2 bucket, I get files that fail with ERROR : Path/To/File.mov: Failed to copy: Post https://pod-000-1113-12.backblaze.com/b2api/v1/b2_upload_file/4759072a79d1bce762ca0a13/c001_v0001113_t0058: file already closed
The same files then retry to sync but seem to keep failing.
What is your rclone version (output from rclone version)
Version 1.49.2
Which OS you are using and how many bits (eg Windows 7, 64 bit)
Ubuntu - it's a PoC will convert to Fedora when I get to production
Which cloud storage system are you using? (eg Google Drive)
BackBlaze B2
The command you were trying to run (eg rclone copy /tmp remote:tmp)
rclone sync apple-1:/Volumes/G-SPEED\ Shuttle\ TB3/Client/ b2-rclone:/G-Tech/ -P --transfers 32
A log from the command with the -vv flag (eg output from rclone -vv copy /tmp remote:tmp)
Have to clean up the log so it doesn't contain sensitive info.
Bucket configuration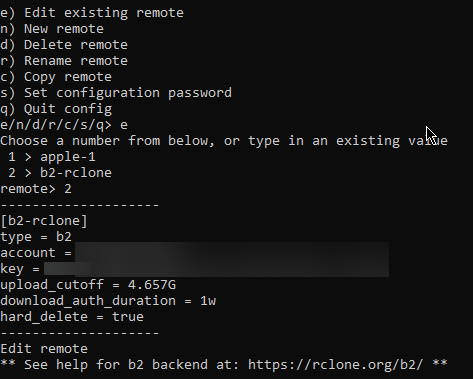 File Sizes
The files in question vary from small >200M to 10G and there doesn't appear to be any rhyme or reason for the error.