if you try to buy, does it keeps the price?
Looks like a nice glitch, but i don't think you will get unlimited storage with just one user.
I'm already on a US plan. Paid for a year with 3 users for myself earlier in the week. But to your point, might be worth someone giving it a shot. Buy it while connected to the VPN, put a random UK address and ZIP if asked, net new Dropbox acount, and use a CC with no foreign transaction fee. I did those steps to get YouTube premium on the cheap. Maybe give your CC a heads up to expect the charge.
I tried once and it was letting me to pay for 1 user only as indicated above. I'm not interested on acquire it yet since still have not received the google email but for some reason now it only shows +3 users so not sure if they already fixed this.
Seeing the same now. Also a different price per user now. Maybe something they are A/Bing or rolling out through CDNs.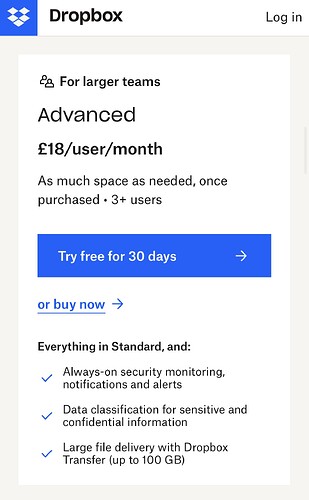 Well that's a concerning message.
Signed up a few days ago, but account is still in trial period. I moved over 7TB of data as a test.
I did initially only have a single account in my team, but have just added another 2. Hopefully that resolves it and the message will disappear, or I'll contact support to find out what the deal is.

Gotcha, I still think it would've been much smarter to just sign up, then to reduce risk, wait for the trial period to end and see what happens. Screenshot of the offer and worst case scenario it gets cancelled then when they indeed try to charge the higher price.
1 slots available Dm me.
EU, Encrypted. 26€/month
This does not resolve it, even if you have 10 users you will have 10TB storage.
Chat support doesn't know how to solve it and they keep sending links that do not work.
You need to escalate it via e-mail, they can cancel your trial and instantly activated Dropbox Advanced, this does mean you will get charged earlier. But that's the only way to remove the 3TB (1TB x users) restrictions.
I'm interested in a dropbox unlimited account.
send me a DM if you still have available accounts
Since this thread seems to be a continuing story of our unlimited cloud adventures. After signing up for the LayerOnline's Dropbox Team, I have successfully uploaded 30TB without error. All Linux ISOs are available. I was able to push about 600MB/s, or 6gbps. We shall see how long it lasts.
is your LayerOnline Dropbox space also 50TB "big"?
That's correct, one of three things will happen when that's reached. 1, no more uploads. 2, LayerOnline will request another 50TB, 3, DropBox will auto increase as it's supposed to.
Would you be able to tell me a bit more about LayerOnline?
I imagine you are given access to a Dropbox organization similar to how others are doing small "groupbuys"?
That's correct, you are added as a member of their Advanced team. I'm not sure how large each team is, but it does appear to be a shared team. You are unable to see any other members, or their content. However, you can see total storage used for the team.
Are they coordinated in this with Dropbox? I mean, that org will probably have several PB in a very short time, even with the initial 50tb limitation mentioned
Man I have 150TB in Drive and got smacked with the 5TB limit now. Luckily I have until June 10th I guess and even then it goes into ready only. Currently thinking on Box and chunking. Interested in the layer shift option as well but am hesitant as i want a solid solution that will last. Not easy to have to move 100+TB of data across clouds. I Only have have 95TB of local space. I am only using 5TB of that now so could pull 90TB local again. Luckily my storage doesn't change in massive amount daily. maybe a couple GB as user backup photos and small videos from phones.
For the record, DropBox Advanced support has been really good so far. At first the system auto added some TB has we were close to the limit. At some point it did not, so I chated with them. First time it really seems that the bot added the storage I wanted because it was so fast


The next 2 times, real people came back to me quickly and added the wanted space, no problem (I have 308 tb available now, around 140tb used and increasing everyday). Now, don't ask for more if you're like 20% of your space used. But if you're like 70-80% used, they will add the storage it seems.
I can confirm that I've been able to buy a plan for £28.80/month (£24 + £4.80 VAT) for one user in the UK - much cheaper than needing 3 users and I've got 100TB of space to start