I applaud all of your who are involved in the development of rclone. You are much more talented than I ever hope to be. I recognized a long time ago that I'm not a developer! However, I'm not to bad at bringing together various applications to make for a solution.
This morning I managed to get rclone running on a Google Cloud Platform Ubuntu 16.04 virtual machine, installed the Ubuntu Gnome Desktop and VNC server for remote access, and now I can access the webgui from it directly. I'm using the beta version that supports the WebGui interface on the local GCP Virtual Machine. I have also installed rclone web Browser on my Windows 10 computer and am able to use it remotely to access rclone running within the Google Cloud Platform.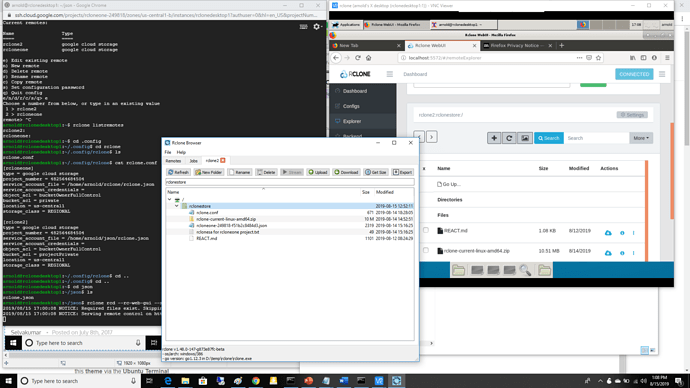 I want to start working on an offshoot of what you are all building by creating a version of this called rclone appliance for Google Cloud Platform. The first version will be a clone Linux Ubuntu image with all of the stuff installed and ready for final configuration. The second version will be a Container distribution. As we are a Google Cloud Partner we will then promote this solution into the Google Cloud Marketplace.
I'm new here so I do not want to step on anyone's toes or be considered as someone stealing others code. So if there are rule of engagement for bringing together a number of these tools into one solution and then offering it for free within the Google Cloud Marketplace please do let me know.
Thank you everyone for all of your help.