What is the problem you are having with rclone?
Too slow read speeds when rclone mount with several computer graphics applications and formats:
Alembic (.abc) and Autodesk Maya 2022
Pixar texture format (.tex) and SideFX Houdini 19.5.569
Probably there are more issues as some users blame rclone mounted disks when working with Adobe Substance painter projects (~20Gi).
Run the command 'rclone version' and share the full output of the command.
rclone v1.62.2
- os/version: Microsoft Windows 10 Pro 22H2 (64 bit)
- os/kernel: 10.0.19045.3208 Build 19045.3208.3208 (x86_64)
- os/type: windows
- os/arch: amd64
- go/version: go1.20.2
- go/linking: static
- go/tags: cmount

Which cloud storage system are you using? (eg Google Drive)
WebDav hosted in local network
Please look following log taken with Process Monitor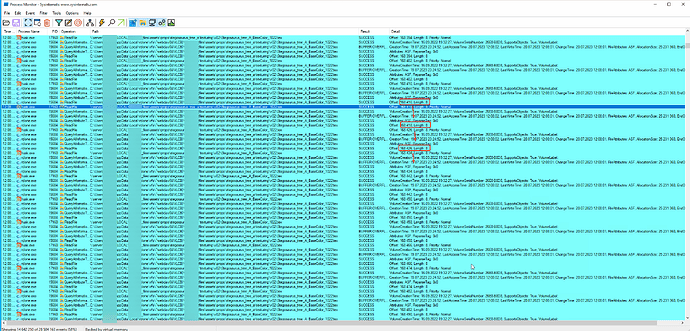 You can see that there is large file that is reading by 8 bytes a call, and it takes 0.5ms, so on large files (100Mi) it is very sensible (compare to 1Mi reading - takes 9ms).
We experience 3 times slower rendering with rclone mounted disks as compared to mounted windows shares with Samba protocol. No matter if it is first render or subsequent with cache populated.
I think it is makes sense to implement some kind of memory caching so subsequent reading would be faster. Have you any ideas on implementing such feature, how memory cache size should be calculated, where it have to be proecessed?
Thank you!