What is the problem you are having with rclone?
I want to access my rclone gdrive mount as a windows share, but it's not working, instead it spits out this error, noting there are no other processes running on the directory except rclone mounting gdrive.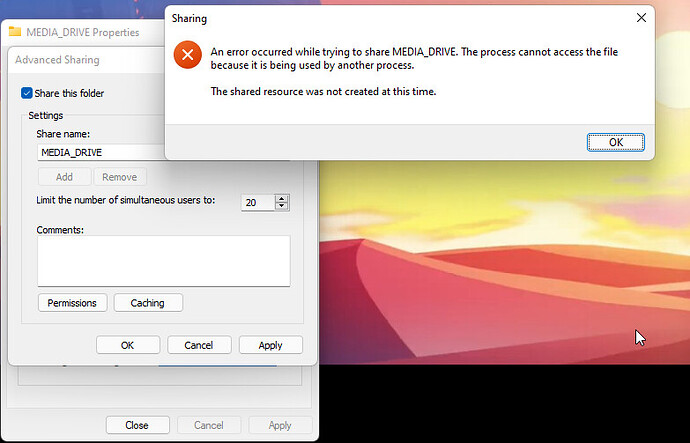 What is your rclone version (output from rclone version)
rclone v1.53.1
os/arch: windows/amd64
go version: go1.15
Which cloud storage system are you using? (eg Google Drive)
i'am using Google Drive.
The command you were trying to run (eg rclone copy /tmp remote:tmp)
rclone mount gdrive: H:\MEDIA_DRIVE\ --allow-other --dir-cache-time 5000h --attr-timeout 5000h --vfs-read-chunk-size 32M --vfs-read-chunk-size-limit off --vfs-cache-mode full --poll-interval 10s --drive-pacer-min-sleep 10ms --drive-pacer-burst 200 --vfs-read-ahead 2G

The rclone config contents with secrets removed.
[gdrive]
type = drive
client_id =
client_secret = 
scope = drive
token = 
team_drive = 
root_folder_id = 

A log from the command with the -vv flag
https://pastebin.com/KnNgxZKG