Hi from Paris!
First of all, I would like to say congratulations to the team behind rClone. This is a great piece of software.
Small suggestion: develop the GUI. I have many friends who don't know how to use the command line and would be willing to pay a small fee to have such a powerful tool...
Back to my problem, I managed to build a SharePoint library. I am well aware that there are speed limits from Microsoft. But I have 4x faster speeds using another software (GoodSync) that seems to send data on parallel channels.
With rClone, the upload speed is between 40 and 46 Mbps while with GoodSync, I get between 75 and 150 Mbps.
I've already tried to play with the transfers / cache-workers / checkers settings but it doesn't seem to have any effect.
So how to reach 150 Mbps or more with rClone, if it is possible?
Thanks for your help.
PS : small question, are mounts in network mode accessible from LAN ?
GoodSync Speed : around 138Mbps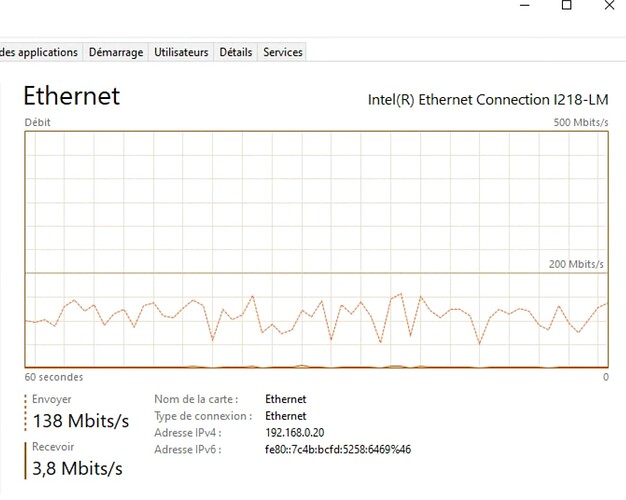 rClone Speed : around 38Mbps

Run the command 'rclone version' and share the full output of the command.
rclone v1.62.2
os/version: Microsoft Windows 10 Pro 22H2 (64 bit)
os/kernel: 10.0.19045.2965 Build 19045.2965.2965 (x86_64)
os/type: windows
os/arch: amd64
go/version: go1.20.2
go/linking: static
go/tags: cmount
Which cloud storage system are you using? (eg Google Drive)
SharePoint
The command you were trying to run (eg rclone copy /tmp remote:tmp)
c:\r\rclone.exe mount sharep: K: -vv --vfs-cache-mode full -u --transfers=16 --cache-dir C:\r\cache-k --drive-chunk-size 32M --cache-workers 16 --progress --checkers=16

The rclone config contents with secrets removed.
[sharep]
type = onedrive
token = XXXXX
drive_id = XXXXXX
drive_type = documentLibrary

A log from the command with the -vv flag
C:\r>c:\r\rclone.exe mount sharep: K: -vv --vfs-cache-mode full -u --transfers=16 --cache-dir C:\r\cache-k --drive-chunk-size 32M --cache-workers 16 --progress --checkers=16
2023/05/16 12:50:27 DEBUG : rclone: Version "v1.62.2" starting with parameters ["c:\r\rclone.exe" "mount" "sharep:" "K:" "-vv" "--vfs-cache-mode" "full" "-u" "--transfers=16" "--cache-dir" "C:\r\cache-k" "--drive-chunk-size" "32M" "--cache-workers" "16" "--progress" "--checkers=16"]
2023/05/16 12:50:27 DEBUG : Creating backend with remote "sharep:"
2023/05/16 12:50:27 DEBUG : Using config file from "c:\r\rclone.conf"
2023/05/16 12:50:27 DEBUG : OneDrive root '': Next delta token is: XXXXXX
2023/05/16 12:50:27 DEBUG : vfs cache: root is "C:\r\cache-k"
2023/05/16 12:50:27 DEBUG : vfs cache: data root is "\\?\C:\r\cache-k\vfs\sharep"
2023/05/16 12:50:27 DEBUG : vfs cache: metadata root is "\\?\C:\r\cache-k\vfsMeta\sharep"
2023/05/16 12:50:27 DEBUG : Creating backend with remote "C:/r/cache-k/vfs/sharep/"
2023/05/16 12:50:27 DEBUG : fs cache: renaming cache item "C:/r/cache-k/vfs/sharep/" to be canonical "//?/C:/r/cache-k/vfs/sharep"
2023/05/16 12:50:27 DEBUG : Creating backend with remote "C:/r/cache-k/vfsMeta/sharep/"
2023/05/16 12:50:27 DEBUG : fs cache: renaming cache item "C:/r/cache-k/vfsMeta/sharep/" to be canonical "//?/C:/r/cache-k/vfsMeta/sharep"
2023/05/16 12:50:27 DEBUG : testadelsprcspeed/1GB - Copie - Copie (3).zip: vfs cache: removed metadata from cache as cache file doesn't exist
2023/05/16 12:50:27 INFO : testadelsprcspeed: Removing directory
2023/05/16 12:50:27 INFO : testadelsprcspeed: Removing directory
2023/05/16 12:50:27 DEBUG : Network mode mounting is disabled
2023/05/16 12:50:27 DEBUG : Mounting on "K:" ("sharep")
2023/05/16 12:50:27 DEBUG : vfs cache RemoveNotInUse (maxAge=3600000000000, emptyOnly=false): item testadelsprcspeed/1GB - Copie - Copie (3).zip not removed, freed 0 bytes
2023/05/16 12:50:27 DEBUG : OneDrive root '': Mounting with options: ["-o" "attr_timeout=1" "-o" "uid=-1" "-o" "gid=-1" "--FileSystemName=rclone" "-o" "volname=sharep"]
2023/05/16 12:50:27 INFO : vfs cache: cleaned: objects 1 (was 1) in use 0, to upload 0, uploading 0, total size 0 (was 0)
2023/05/16 12:50:27 DEBUG : OneDrive root '': Init:
2023/05/16 12:50:27 DEBUG : OneDrive root '': >Init:
2023/05/16 12:50:27 DEBUG : /: Statfs:
2023/05/16 12:50:28 DEBUG : /: >Statfs: stat={Bsize:4096 Frsize:4096 Blocks:6710886400 Bfree:4139748659 Bavail:4139748659 Files:1000000000 Ffree:1000000000 Favail:0 Fsid:0 Flag:0 Namemax:255}, errc=0
2023/05/16 12:50:28 DEBUG : /: Getattr: fh=0xFFFFFFFFFFFFFFFF
2023/05/16 12:50:28 DEBUG : /: >Getattr: errc=0
2023/05/16 12:50:28 DEBUG : /: Readlink:
2023/05/16 12:50:28 DEBUG : /: >Readlink: linkPath="", errc=-40
2023/05/16 12:50:28 DEBUG : /: Getxattr: name="non-existant-a11ec902d22f4ec49003af15282d3b00"
2023/05/16 12:50:28 DEBUG : /: >Getxattr: errc=-40, value=""
2023/05/16 12:50:28 DEBUG : /: Getattr: fh=0xFFFFFFFFFFFFFFFF
2023/05/16 12:50:28 DEBUG : /: >Getattr: errc=0
2023/05/16 12:50:28 DEBUG : /: Getattr: fh=0xFFFFFFFFFFFFFFFF
2023/05/16 12:50:28 DEBUG : /: >Getattr: errc=0
2023/05/16 12:50:28 DEBUG : /: Opendir:
2023/05/16 12:50:28 DEBUG : /: OpenFile: flags=O_RDONLY, perm=-rwxrwxrwx
2023/05/16 12:50:28 DEBUG : /: >OpenFile: fd=/ (r), err=
2023/05/16 12:50:28 DEBUG : /: Getattr: fh=0xFFFFFFFFFFFFFFFF
The service rclone has been started.
2023/05/16 12:50:28 DEBUG : /: >Opendir: errc=0, fh=0x0
2023/05/16 12:50:28 DEBUG : /: >Getattr: errc=0
2023/05/16 12:50:28 DEBUG : /: Getattr: fh=0xFFFFFFFFFFFFFFFF
2023/05/16 12:50:28 DEBUG : /: >Getattr: errc=0
2023/05/16 12:50:28 DEBUG : /: Opendir:
2023/05/16 12:50:28 DEBUG : /: Getpath: Getpath fh=0
2023/05/16 12:50:28 DEBUG : /: >Getpath: errc=0, normalisedPath=""
2023/05/16 12:50:28 DEBUG : /: OpenFile: flags=O_RDONLY, perm=-rwxrwxrwx
2023/05/16 12:50:28 DEBUG : /: >OpenFile: fd=/ (r), err=
2023/05/16 12:50:28 DEBUG : /: Statfs:
2023/05/16 12:50:28 DEBUG : /: Getattr: fh=0xFFFFFFFFFFFFFFFF
2023/05/16 12:50:28 DEBUG : /: >Opendir: errc=0, fh=0x1
2023/05/16 12:50:28 DEBUG : /: >Statfs: stat={Bsize:4096 Frsize:4096 Blocks:6710886400 Bfree:4139748659 Bavail:4139748659 Files:1000000000 Ffree:1000000000 Favail:0 Fsid:0 Flag:0 Namemax:255}, errc=0
2023/05/16 12:50:28 DEBUG : /: >Getattr: errc=0
2023/05/16 12:50:28 DEBUG : /: Getpath: Getpath fh=1
2023/05/16 12:50:28 DEBUG : /: Releasedir: fh=0x0
2023/05/16 12:50:28 DEBUG : /: Getattr: fh=0xFFFFFFFFFFFFFFFF
2023/05/16 12:50:28 DEBUG : /: >Getpath: errc=0, normalisedPath=""
2023/05/16 12:50:28 DEBUG : /: >Releasedir: errc=0
2023/05/16 12:50:28 DEBUG : /: >Getattr: errc=0
2023/05/16 12:50:28 DEBUG : /: Releasedir: fh=0x1
2023/05/16 12:50:28 DEBUG : /: >Releasedir: errc=0
2023/05/16 12:50:28 DEBUG : /: Opendir:
2023/05/16 12:50:28 DEBUG : /: OpenFile: flags=O_RDONLY, perm=-rwxrwxrwx
2023/05/16 12:50:28 DEBUG : /: >OpenFile: fd=/ (r), err=
2023/05/16 12:50:28 DEBUG : /: >Opendir: errc=0, fh=0x0
2023/05/16 12:50:28 DEBUG : /: Getpath: Getpath fh=0
2023/05/16 12:50:28 DEBUG : /: >Getpath: errc=0, normalisedPath=""
2023/05/16 12:50:28 DEBUG : /: Releasedir: fh=0x0
2023/05/16 12:50:28 DEBUG : /: >Releasedir: errc=0
2023/05/16 12:50:28 DEBUG : /: Getattr: fh=0xFFFFFFFFFFFFFFFF
2023/05/16 12:50:28 DEBUG : /: >Getattr: errc=0
2023/05/16 12:50:28 DEBUG : /: Getattr: fh=0xFFFFFFFFFFFFFFFF
2023/05/16 12:50:28 DEBUG : /: >Getattr: errc=0
2023/05/16 12:50:28 DEBUG : /: Opendir:
2023/05/16 12:50:28 DEBUG : /: OpenFile: flags=O_RDONLY, perm=-rwxrwxrwx
2023/05/16 12:50:28 DEBUG : /: >OpenFile: fd=/ (r), err=
2023/05/16 12:50:28 DEBUG : /: >Opendir: errc=0, fh=0x0
2023/05/16 12:50:28 DEBUG : /: Getpath: Getpath fh=0
2023/05/16 12:50:28 DEBUG : /: >Getpath: errc=0, normalisedPath=""
2023/05/16 12:50:28 DEBUG : /: Releasedir: fh=0x0
2023/05/16 12:50:28 DEBUG : /: >Releasedir: errc=0
2023/05/16 12:50:30 DEBUG : /: Getattr: fh=0xFFFFFFFFFFFFFFFF
2023/05/16 12:50:30 DEBUG : /: >Getattr: errc=0
2023/05/16 12:50:30 DEBUG : /: Getattr: fh=0xFFFFFFFFFFFFFFFF
2023/05/16 12:50:30 DEBUG : /: >Getattr: errc=0
2023/05/16 12:50:30 DEBUG : /: Opendir:
2023/05/16 12:50:30 DEBUG : /: OpenFile: flags=O_RDONLY, perm=-rwxrwxrwx
2023/05/16 12:50:30 DEBUG : /: >OpenFile: fd=/ (r), err=
2023/05/16 12:50:30 DEBUG : /: >Opendir: errc=0, fh=0x0
2023/05/16 12:50:30 DEBUG : /: Getpath: Getpath fh=0
2023/05/16 12:50:30 DEBUG : /: >Getpath: errc=0, normalisedPath=""
2023/05/16 12:50:30 DEBUG : /: Readdir: ofst=0, fh=0x0
2023/05/16 12:50:30 DEBUG : /: >Readdir: items=237, errc=0
2023/05/16 12:50:30 DEBUG : /: Releasedir: fh=0x0
2023/05/16 12:50:30 DEBUG : /: >Releasedir: errc=0
2023/05/16 12:50:30 DEBUG : /: Getattr: fh=0xFFFFFFFFFFFFFFFF
2023/05/16 12:50:30 DEBUG : /: >Getattr: errc=0
2023/05/16 12:50:30 DEBUG : /: Getattr: fh=0xFFFFFFFFFFFFFFFF
2023/05/16 12:50:30 DEBUG : /: >Getattr: errc=0
2023/05/16 12:50:30 DEBUG : /: Opendir:
2023/05/16 12:50:30 DEBUG : /: OpenFile: flags=O_RDONLY, perm=-rwxrwxrwx
2023/05/16 12:50:30 DEBUG : /: >OpenFile: fd=/ (r), err=
2023/05/16 12:50:30 DEBUG : /: >Opendir: errc=0, fh=0x0
2023/05/16 12:50:30 DEBUG : /: Getpath: Getpath fh=0
2023/05/16 12:50:30 DEBUG : /: >Getpath: errc=0, normalisedPath=""
2023/05/16 12:50:30 DEBUG : /: Releasedir: fh=0x0
2023/05/16 12:50:30 DEBUG : /: >Releasedir: errc=0
2023/05/16 12:50:30 DEBUG : /: Getattr: fh=0xFFFFFFFFFFFFFFFF
2023/05/16 12:50:30 DEBUG : /: >Getattr: errc=0
2023/05/16 12:50:30 DEBUG : /: Getattr: fh=0xFFFFFFFFFFFFFFFF
2023/05/16 12:50:30 DEBUG : /: >Getattr: errc=0
2023/05/16 12:50:30 DEBUG : /: Opendir:
2023/05/16 12:50:30 DEBUG : /: OpenFile: flags=O_RDONLY, perm=-rwxrwxrwx
2023/05/16 12:50:30 DEBUG : /: >OpenFile: fd=/ (r), err=
2023/05/16 12:50:30 DEBUG : /: >Opendir: errc=0, fh=0x0
2023/05/16 12:50:30 DEBUG : /: Getpath: Getpath fh=0
2023/05/16 12:50:30 DEBUG : /: >Getpath: errc=0, normalisedPath=""
2023/05/16 12:50:30 DEBUG : /: Releasedir: fh=0x0
2023/05/16 12:50:30 DEBUG : /: >Releasedir: errc=0
2023/05/16 12:50:31 DEBUG : /: Getattr: fh=0xFFFFFFFFFFFFFFFF
2023/05/16 12:50:31 DEBUG : /: >Getattr: errc=0
2023/05/16 12:50:31 DEBUG : /: Getattr: fh=0xFFFFFFFFFFFFFFFF
2023/05/16 12:50:31 DEBUG : /: >Getattr: errc=0
2023/05/16 12:50:31 DEBUG : /desktop.ini: Getattr: fh=0xFFFFFFFFFFFFFFFF
2023/05/16 12:50:31 DEBUG : /desktop.ini: >Getattr: errc=-2
2023/05/16 12:50:31 DEBUG : /: Opendir:
2023/05/16 12:50:31 DEBUG : /: OpenFile: flags=O_RDONLY, perm=-rwxrwxrwx
2023/05/16 12:50:31 DEBUG : /: Getattr: fh=0xFFFFFFFFFFFFFFFF
2023/05/16 12:50:31 DEBUG : /: >OpenFile: fd=/ (r), err=
2023/05/16 12:50:31 DEBUG : /: >Opendir: errc=0, fh=0x0
2023/05/16 12:50:31 DEBUG : /: >Getattr: errc=0
2023/05/16 12:50:31 DEBUG : /: Getattr: fh=0xFFFFFFFFFFFFFFFF
2023/05/16 12:50:31 DEBUG : /: >Getattr: errc=0
2023/05/16 12:50:31 DEBUG : /: Getpath: Getpath fh=0
2023/05/16 12:50:31 DEBUG : /: Opendir:
2023/05/16 12:50:31 DEBUG : /: OpenFile: flags=O_RDONLY, perm=-rwxrwxrwx
2023/05/16 12:50:31 DEBUG : /: >Getpath: errc=0, normalisedPath=""
2023/05/16 12:50:31 DEBUG : /: Releasedir: fh=0x0
2023/05/16 12:50:31 DEBUG : /: >OpenFile: fd=/ (r), err=
2023/05/16 12:50:31 DEBUG : /: Getattr: fh=0xFFFFFFFFFFFFFFFF
2023/05/16 12:50:31 DEBUG : /: >Releasedir: errc=0
2023/05/16 12:50:31 DEBUG : /: >Opendir: errc=0, fh=0x0
2023/05/16 12:50:31 DEBUG : /: >Getattr: errc=0
2023/05/16 12:50:31 DEBUG : /: Getattr: fh=0xFFFFFFFFFFFFFFFF
2023/05/16 12:50:31 DEBUG : /: >Getattr: errc=0
2023/05/16 12:50:31 DEBUG : /: Opendir:
2023/05/16 12:50:31 DEBUG : /: Getpath: Getpath fh=0
2023/05/16 12:50:31 DEBUG : /: >Getpath: errc=0, normalisedPath=""
2023/05/16 12:50:31 DEBUG : /: OpenFile: flags=O_RDONLY, perm=-rwxrwxrwx
2023/05/16 12:50:31 DEBUG : /: >OpenFile: fd=/ (r), err=
2023/05/16 12:50:31 DEBUG : /: Readdir: ofst=0, fh=0x0
2023/05/16 12:50:31 DEBUG : /: >Opendir: errc=0, fh=0x1
2023/05/16 12:50:31 DEBUG : /: Getpath: Getpath fh=1
2023/05/16 12:50:31 DEBUG : /: >Readdir: items=237, errc=0
2023/05/16 12:50:31 DEBUG : /: >Getpath: errc=0, normalisedPath=""
2023/05/16 12:50:31 DEBUG : /: Getattr: fh=0xFFFFFFFFFFFFFFFF
2023/05/16 12:50:31 DEBUG : /: Releasedir: fh=0x0
2023/05/16 12:50:31 DEBUG : /: >Releasedir: errc=0
2023/05/16 12:50:31 DEBUG : /: >Getattr: errc=0
2023/05/16 12:50:31 DEBUG : /: Getattr: fh=0xFFFFFFFFFFFFFFFF
2023/05/16 12:50:31 DEBUG : /: >Getattr: errc=0
2023/05/16 12:50:31 DEBUG : /: Opendir:
2023/05/16 12:50:31 DEBUG : /: OpenFile: flags=O_RDONLY, perm=-rwxrwxrwx
2023/05/16 12:50:31 DEBUG : /: >OpenFile: fd=/ (r), err=
2023/05/16 12:50:31 DEBUG : /: >Opendir: errc=0, fh=0x0
2023/05/16 12:50:31 DEBUG : /: Getpath: Getpath fh=0
2023/05/16 12:50:31 DEBUG : /: >Getpath: errc=0, normalisedPath=""
2023/05/16 12:50:31 DEBUG : /: Getattr: fh=0xFFFFFFFFFFFFFFFF
2023/05/16 12:50:31 DEBUG : /: >Getattr: errc=0
2023/05/16 12:50:31 DEBUG : /: Getattr: fh=0xFFFFFFFFFFFFFFFF
2023/05/16 12:50:31 DEBUG : /: >Getattr: errc=0
2023/05/16 12:50:31 DEBUG : /: Opendir:
2023/05/16 12:50:31 DEBUG : /: OpenFile: flags=O_RDONLY, perm=-rwxrwxrwx
2023/05/16 12:50:31 DEBUG : /: >OpenFile: fd=/ (r), err=
2023/05/16 12:50:31 DEBUG : /: >Opendir: errc=0, fh=0x2
2023/05/16 12:50:31 DEBUG : /: Getpath: Getpath fh=2
2023/05/16 12:50:31 DEBUG : /: >Getpath: errc=0, normalisedPath=""
2023/05/16 12:50:31 DEBUG : /: Statfs:
2023/05/16 12:50:31 DEBUG : /: >Statfs: stat={Bsize:4096 Frsize:4096 Blocks:6710886400 Bfree:4139748659 Bavail:4139748659 Files:1000000000 Ffree:1000000000 Favail:0 Fsid:0 Flag:0 Namemax:255}, errc=0
2023/05/16 12:50:31 DEBUG : /: Releasedir: fh=0x2
2023/05/16 12:50:31 DEBUG : /: >Releasedir: errc=0
2023/05/16 12:50:31 DEBUG : /: Getattr: fh=0xFFFFFFFFFFFFFFFF
2023/05/16 12:50:31 DEBUG : /: >Getattr: errc=0
2023/05/16 12:50:31 DEBUG : /: Getattr: fh=0xFFFFFFFFFFFFFFFF
2023/05/16 12:50:31 DEBUG : /: >Getattr: errc=0
2023/05/16 12:50:31 DEBUG : /: Opendir:
2023/05/16 12:50:31 DEBUG : /: OpenFile: flags=O_RDONLY, perm=-rwxrwxrwx
2023/05/16 12:50:31 DEBUG : /: >OpenFile: fd=/ (r), err=
2023/05/16 12:50:31 DEBUG : /: >Opendir: errc=0, fh=0x2
2023/05/16 12:50:31 DEBUG : /: Getpath: Getpath fh=2
2023/05/16 12:50:31 DEBUG : /: >Getpath: errc=0, normalisedPath=""
2023/05/16 12:50:31 DEBUG : /: Releasedir: fh=0x2
2023/05/16 12:50:31 DEBUG : /: >Releasedir: errc=0
2023/05/16 12:50:31 DEBUG : /: Getattr: fh=0xFFFFFFFFFFFFFFFF
2023/05/16 12:50:31 DEBUG : /: >Getattr: errc=0
2023/05/16 12:50:31 DEBUG : /: Getattr: fh=0xFFFFFFFFFFFFFFFF
2023/05/16 12:50:31 DEBUG : /: >Getattr: errc=0
2023/05/16 12:50:31 DEBUG : /: Opendir:
2023/05/16 12:50:31 DEBUG : /: OpenFile: flags=O_RDONLY, perm=-rwxrwxrwx
2023/05/16 12:50:31 DEBUG : /: >OpenFile: fd=/ (r), err=
2023/05/16 12:50:31 DEBUG : /: >Opendir: errc=0, fh=0x2
2023/05/16 12:50:31 DEBUG : /: Getpath: Getpath fh=2
2023/05/16 12:50:31 DEBUG : /: >Getpath: errc=0, normalisedPath=""
2023/05/16 12:50:31 DEBUG : /: Releasedir: fh=0x2
2023/05/16 12:50:31 DEBUG : /: >Releasedir: errc=0
2023/05/16 12:50:31 DEBUG : /: Getattr: fh=0xFFFFFFFFFFFFFFFF
2023/05/16 12:50:31 DEBUG : /: >Getattr: errc=0
2023/05/16 12:50:31 DEBUG : /: Getattr: fh=0xFFFFFFFFFFFFFFFF
2023/05/16 12:51:19 DEBUG : /: Getpath: Getpath fh=4
2023/05/16 12:51:19 DEBUG : /: >Statfs: stat={Bsize:4096 Frsize:4096 Blocks:6710886400 Bfree:4139748659 Bavail:4139748659 Files:1000000000 Ffree:1000000000 Favail:0 Fsid:0 Flag:0 Namemax:255}, errc=0
2023/05/16 12:51:19 DEBUG : testadelsprcspeed/1GB - Copie - Copie (3).zip(0xc000a22000): >close: err=
2023/05/16 12:51:20 DEBUG : /testadelsprcspeed: >Getpath: errc=0, normalisedPath="/testadelsprcspeed"
2023/05/16 12:51:20 DEBUG : /: >Getpath: errc=0, normalisedPath=""
2023/05/16 12:51:20 DEBUG : /: Releasedir: fh=0x2
2023/05/16 12:51:20 DEBUG : /testadelsprcspeed/1GB - Copie - Copie (3).zip: >Release: errc=0
2023/05/16 12:51:20 DEBUG : /testadelsprcspeed: Getattr: fh=0xFFFFFFFFFFFFFFFF
2023/05/16 12:51:20 DEBUG : /: Getattr: fh=0xFFFFFFFFFFFFFFFF
2023/05/16 12:51:20 DEBUG : /: >Releasedir: errc=0
2023/05/16 12:51:20 DEBUG : /testadelsprcspeed: >Getattr: errc=0
2023/05/16 12:51:20 DEBUG : /: >Getattr: errc=0
2023/05/16 12:51:20 DEBUG : /testadelsprcspeed: Getattr: fh=0xFFFFFFFFFFFFFFFF
2023/05/16 12:51:20 DEBUG : /testadelsprcspeed: >Getattr: errc=0
2023/05/16 12:51:20 DEBUG : /testadelsprcspeed: Opendir:
2023/05/16 12:51:20 DEBUG : /testadelsprcspeed: OpenFile: flags=O_RDONLY, perm=-rwxrwxrwx
2023/05/16 12:51:20 DEBUG : /TESTADELSPRCSPEED: Getattr: fh=0xFFFFFFFFFFFFFFFF
2023/05/16 12:51:20 DEBUG : /testadelsprcspeed: >OpenFile: fd=testadelsprcspeed/ (r), err=
2023/05/16 12:51:20 DEBUG : /TESTADELSPRCSPEED: >Getattr: errc=0
2023/05/16 12:51:20 DEBUG : /testadelsprcspeed: >Opendir: errc=0, fh=0x2
2023/05/16 12:51:20 DEBUG : /testadelsprcspeed: Getpath: Getpath fh=2
2023/05/16 12:51:20 DEBUG : /testadelsprcspeed: >Getpath: errc=0, normalisedPath="/testadelsprcspeed"
2023/05/16 12:51:20 DEBUG : /TESTADELSPRCSPEED: Getpath: Getpath fh=18446744073709551615
2023/05/16 12:51:20 DEBUG : /TESTADELSPRCSPEED: >Getpath: errc=0, normalisedPath="/testadelsprcspeed"
2023/05/16 12:51:20 DEBUG : /: Releasedir: fh=0x4
2023/05/16 12:51:20 DEBUG : /: >Releasedir: errc=0
2023/05/16 12:51:20 DEBUG : /: Getattr: fh=0xFFFFFFFFFFFFFFFF
2023/05/16 12:51:20 DEBUG : /: >Getattr: errc=0
2023/05/16 12:51:20 DEBUG : /: Getattr: fh=0xFFFFFFFFFFFFFFFF
2023/05/16 12:51:20 DEBUG : /: >Getattr: errc=0
2023/05/16 12:51:20 DEBUG : /: Opendir:
2023/05/16 12:51:20 DEBUG : /: OpenFile: flags=O_RDONLY, perm=-rwxrwxrwx
2023/05/16 12:51:20 DEBUG : /: >OpenFile: fd=/ (r), err=
2023/05/16 12:51:20 DEBUG : /: >Opendir: errc=0, fh=0x4
2023/05/16 12:51:20 DEBUG : /: Getpath: Getpath fh=4
2023/05/16 12:51:20 DEBUG : /: >Getpath: errc=0, normalisedPath=""
2023/05/16 12:51:20 DEBUG : /TESTADELSPRCSPEED: Getattr: fh=0xFFFFFFFFFFFFFFFF
2023/05/16 12:51:20 DEBUG : /TESTADELSPRCSPEED: >Getattr: errc=0
2023/05/16 12:51:20 DEBUG : /TESTADELSPRCSPEED: Getpath: Getpath fh=18446744073709551615
2023/05/16 12:51:20 DEBUG : /TESTADELSPRCSPEED: >Getpath: errc=0, normalisedPath="/testadelsprcspeed"
2023/05/16 12:51:20 DEBUG : /: Releasedir: fh=0x4
2023/05/16 12:51:20 DEBUG : /: >Releasedir: errc=0
2023/05/16 12:51:27 DEBUG : OneDrive root '': Checking for changes on remote
2023/05/16 12:51:27 DEBUG : vfs cache RemoveNotInUse (maxAge=3600000000000, emptyOnly=false): item testadelsprcspeed/1GB - Copie - Copie (2).zip not removed, freed 0 bytes
2023/05/16 12:51:27 DEBUG : vfs cache RemoveNotInUse (maxAge=3600000000000, emptyOnly=false): item testadelsprcspeed/1GB - Copie - Copie (3) - Copie.zip not removed, freed 0 bytes
2023/05/16 12:51:27 DEBUG : vfs cache RemoveNotInUse (maxAge=3600000000000, emptyOnly=false): item testadelsprcspeed/1GB - Copie - Copie (2) - Copie.zip not removed, freed 0 bytes
2023/05/16 12:51:27 INFO : vfs cache: cleaned: objects 3 (was 3) in use 0, to upload 0, uploading 0, total size 0 (was 0)
2023/05/16 12:51:27 DEBUG : : changeNotify: relativePath="testadelsprcspeed", type=0
2023/05/16 12:51:27 DEBUG : : invalidating directory cache
2023/05/16 12:51:27 DEBUG : testadelsprcspeed: invalidating directory cache
2023/05/16 12:51:27 DEBUG : : >changeNotify: