Hello there,
I'm suspecting a bug in the VFS layer since I have spent a considerable amount of time ruling other things out in my situation. I'm interested if anyone using MacOS has had similar problems as outlined here:
What is the problem you are having with rclone?
I am using rclone mount to mount a Google Cloud Storage bucket. The mounted volume is used for both reading and writing by actual human users. Files are not particularly large and transfers seem quite snappy, especially when VFS is used to "mask" the upload and download. However, when using VFS mode full or writes or even minimal, we have noticed an issue that is driving us quite bonkers: Copying files and then trying to rename some of them doesn't often work at all. We are using Mac Finder to operate the mount and see this happen very often.
Here's an example with pictures:
Step 1: We have mounted the bucket and copy over some files. For illustration purposes here we have 7 PNG images from a.png to g.png.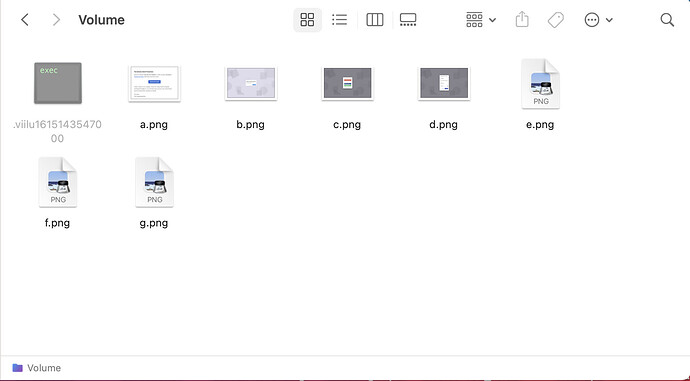 Notice that three files (e.png, f.png, g.png) don't have the preview? That seems to somehow correlate with the issue, since if we try to rename those files, we get an error like this: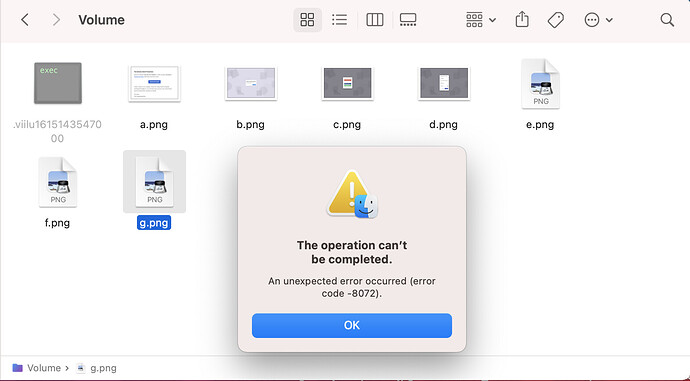 Not very helpful error message, but that's Apple for you. However, we are able to open the file just fine and even see the preview, if we enable the preview panel in Finder. But this thumbnail never loads and you cannot rename the file. You are able to rename the files a to d, since they have the thumbnails like this (renamed file a.png to a2.png)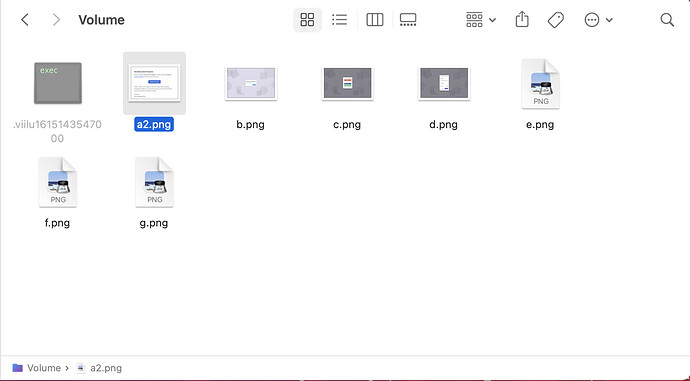 This problem only occurs when using VFS. Without it everything seems to work, but then the compatibility is pretty bad, especially with MS Office programs.
What I have checked:
The cache directory has both the files (in vfs dir) and meta files (in vfsMeta dir).
The log seems to indicate successful upload, and the files are accessible fine from another machine, so they are uploaded.
Both 4.0.4 and 4.05 versions of MacFuse display similar behaviour. (Haven't tested older ones)
Removing the "local" option has no effect.
Having Apple FileVault enabled or disabled has no effect.
Mac language settings has no effect (tested Finnish and English)
Changing --cache-dir has no effect.
Changing --local-no-check-updated has no effect.
Changing vfs buffer size or read ahead has no effect.
Degrading network performance has no effect (I have 1000Mbit/s download and 100Mbit/s upload)
Disabling Apple Time Machine has no effect (getting desperate here )
Disabling firewall and F-Secure realtime protection has no effect.
Removing all other sync programs like Dropbox has no effect.
Changing from the default --transfers 4 to 1 or 16 has no effect.
File type of transferred files has no effect.
File count has no effect. In the demo above I used multiple files, but it can also be just one file copied over and then you are not able to rename it.
This has been tested with 10+ Mac devices with the same results.
Killing and restarting rclone allows you to rename the file, but this is not a feasible solution. When restarted, also the thumbnails load for all files, so it would really seem like there's some conection.
What is your rclone version (output from rclone version)
v1.54.0 stable (from releases)
Which OS you are using and how many bits
MacOS Big Sur 64 bit
Which cloud storage system are you using?
Google Cloud Storage
The command you were trying to run
rclone
--gcs-project-number <redacted>
--gcs-service-account-credentials <redacted>
--gcs-bucket-policy-only
--gcs-location europe-north1
mount
--log-level DEBUG
--log-file ~/rclone.log
--vfs-cache-mode full
--vfs-read-ahead 16M
--cache-dir ~/viilu-cache
--dir-cache-time 0m30s
--volname Volume
--local-no-check-updated
--dir-perms 0777
--file-perms 0777
--umask 0000
--buffer-size 16M
--retries 10
--retries-sleep 0m3s
--fast-list
--option local
--option volicon=/public/icons/mac/drive-icon.icns
:gcs:<redacted>/test

The rclone config contents with secrets removed.
no config file since all parameters are in the command.

A log from the command with the -vv flag
The log with debug level can be found here: https://gist.github.com/SamiPussinen/271e36afb872edc66813082814aba35a
Some state seems to get stuck somewhere and is fixed by restarting rclone. This only happens when using VFS, which we need to use to have the mount behave nicely with other programs, like MS office.