What is the problem you are having with rclone?
I have created a remote named Index whose actual size is 7.22 TB
rclone size Index: always giving incorrect results
( Well to be honest not just slightly incorrect but does so by a very huge margin and even most absurdly gives different results each time )
I ran it 5 times
It gave results ranging from 80 gb to 127 gb
Thankfully rclone ncdu Index: works perfectly and gives me 7.22 TB every time i run it
( Posting pics of these both as proof )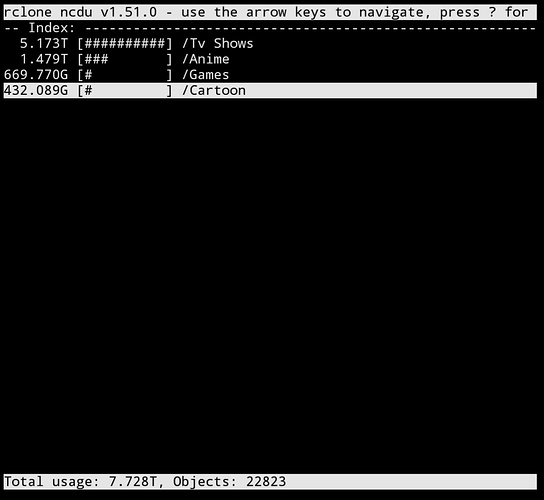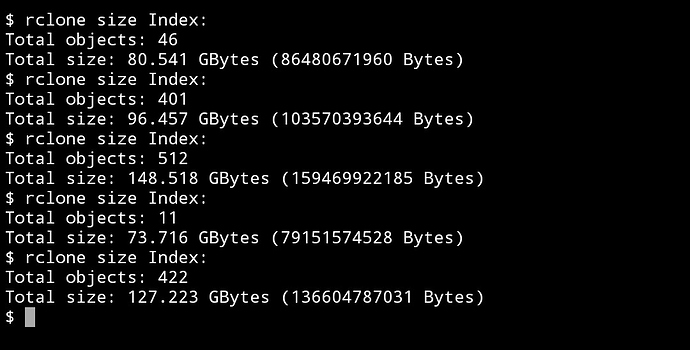 Now if it was just a matter of checking size , i do always use ncdu and not bother much ( although ideally even size should give correct info as everyone is not aware of ncdu )
But the bigger indirect issue which comes out is that if we use rclone copy command , i have noticed rclone copies content what it detects according to size command . I won't call cloning is bugged just that it clones what content size command detects .. If rclone size debugging becomes tricky , i do reckon rclone copy use can algorithm to detect files to be cloned using ncdu as its 100% perfect in every scenario whatsoever
Now as i have mentioned in question , this issue doesn't happen in every case. To reproduce make sure that while creating a new remote.
You explicitly enter the root_folder id ( ie don't skip it )
( Could be any folder your account has access to )
Don't set this Remote as team drive
and ofc don't use service account
Then check size using rclone size/ncdu remote: respectively
I tried this with some other folders too and got similar results
What is your rclone version (output from rclone version)
rclone v1.51.0
Which OS you are using and how many bits (eg Windows 7, 64 bit)
os/arch: android/arm64
go version: go1.13.7
Which cloud storage system are you using? (eg Google Drive)
Google Drive
Here are the logs for rclone size command
rclone size Index: -vv
2020/05/08 14:11:54 DEBUG : rclone: Version "v1.51.0" starting with parameters ["rclone" "size" "Index:" "-vv"]                     2020/05/08 14:11:54 DEBUG : Using config file from "/data/data/com.termux/files/home/.config/rclone/rclone.conf"                    2020/05/08 14:11:54 DEBUG : Index: Loaded invalid token from config file - ignoring                                                 2020/05/08 14:11:55 DEBUG : Index: Saved new token in config file
Total objects: 403
Total size: 96.457 GBytes (103570393644 Bytes)
2020/05/08 14:11:58 DEBUG : 21 go routines active
2020/05/08 14:11:58 DEBUG : rclone: Version "v1.51.0" finishing with parameters ["rclone" "size" "Index:" "-vv"]

================================================
Another test
Remote name - test2
Actual folder size - 167 GB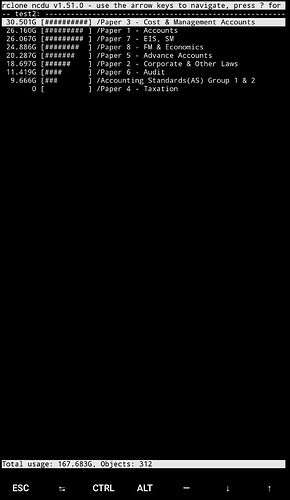 rclone ncdu test2: gives accurate results as always ( pic uploaded )
rclone size test2: fails for even such a small file shows 143 gb instead of 167 ( log below)
rclone size test2: -vv
2020/05/08 15:13:51 DEBUG : rclone: Version "v1.51.0" starting with parameters ["rclone" "size" "test2:" "-vv"]
2020/05/08 15:13:51 DEBUG : Using config file from "/data/data/com.termux/files/home/.config/rclone/rclone.conf"
Total objects: 254
Total size: 143.149 GBytes (153704723191 Bytes)
2020/05/08 15:13:56 DEBUG : 19 go routines active
2020/05/08 15:13:56 DEBUG : rclone: Version "v1.51.0" finishing with parameters ["rclone" "size" "test2:" "-vv"]