When I still used Windows 7, I had keepass + google drive file stream, and I could work with the remote database just fine, and it would sync and I'd be able to access it using keepass2android just fine.
Now with linux desktop and a rclone mount. Everytime I save the file, its sent to the trash and a new one is created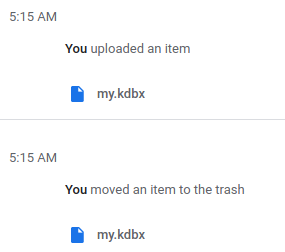 This makes keepass2android unable to sync the updates with the error : file is trashed.
I want the old behavior where the file would be just edited. Why is this happening?
  --user-agent='Mozilla/5.0 (Windows NT 10.0; Win64; x64) AppleWebKit/537.36 (KHTML, like Gecko) Chrome/74.0.3729.131 Safari/537.36' \
  --config=/redacted \
  --allow-other \
  --rc \
  --rc-addr=localhost:5572 \
  --fast-list \
  --vfs-read-chunk-size=64M \
  --vfs-read-chunk-size-limit=2048M \
  --buffer-size=64M \
  --poll-interval=1m \
  --dir-cache-time=168h \
  --timeout=10m \
  --drive-chunk-size=32M \
  --umask=002 \
  --syslog \
  --vfs-cache-mode=writes \
  --cache-dir=/dev/shm \
  -v \

This is my settings