What is the problem you are having with rclone?
I would like to have 2 TD's one for tv and one for movies, atm they are located on my main TD as crypted content. Is it possible to copy/move that to each their own TD ? I have rclone webgui in and I can browse the content of the crypted drive fine and see the content without it's crypted. So can I move it from the WEBgui?
Run the command 'rclone version' and share the full output of the command.
rclone v1.58.1
- os/version: ubuntu 21.10 (64 bit)
- os/kernel: 5.13.0-52-generic (x86_64)
- os/type: linux
- os/arch: amd64
- go/version: go1.17.9
- go/linking: static
- go/tags: none

Which cloud storage system are you using? (eg Google Drive)
Google Drive
The rclone config contents with secrets removed.
FROM:
This TD contains different folders like : TV-NORDIC/TV-DANISH/TV-CARTOONS/TV-NON-SUBS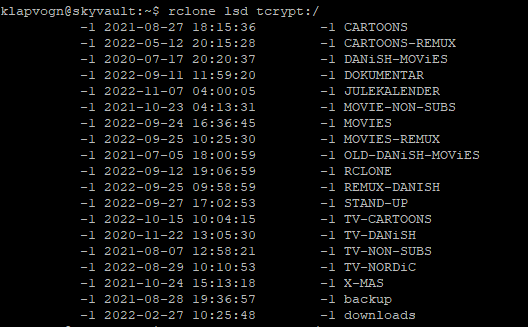 [tdrive]
client_id = xxxx
client_secret = xxxx
type = drive
token = xxxx
team_drive = xxxx

[tcrypt]
type = crypt
remote = tdrive:/encrypt
filename_encryption = standard
directory_name_encryption = true
password = xxxx
password2 = xxxx

TO:
[tv]
type = drive
client_id = xxxx
client_secret = xxxx
scope = drive
token = xxxx
team_drive = xxxx
root_folder_id = 

tv_crypt]
type = crypt
remote = tv:/
password = xxxx
password2 = xxxx