Plex is making rclone use too much unnecessary download bandwidth.
There are usually 2 instances of rclone running on my machine. The read-only mount (config below) for Plex and the upload script triggered every hour to only upload the files.
Combined, in about 1 month rclone used 4.1 TB of download and 4.8 TB of upload. This means that most of the files uploaded to the drive is being read by Plex from the mount. Actually used bandwidth for playbacks are less than 500 GB.
This happens at random times, rclone just sarts using 100% of download bandwidth available when there is no active playback nor scan. Rclone also won't output anything with a INFO level.
All analysis and generate video preview thumbnails have been always turned off. Screenshots below.
The thing is, the whole library is huge and when there is no new content added, rclone won't go crazy on download. It only does when I add new content. Is this a thing I've never noticed where Plex needs to read almost the whole new content that has been added? Am I missing anything?
RCLONE CONFIG
rclone mount crypt: V: --allow-other --read-only --allow-non-empty --log-level INFO --attr-timeout 1000h --buffer-size 32M --dir-cache-time 1000h --poll-interval 15s --timeout 1h --tpslimit 10 --tpslimit-burst 10 --rc --rc-addr 127.0.0.1:5572 --fast-list --log-level INFO
with a rclone rc vfs/refresh recursive=true ran every 24h
PLEX CONFIG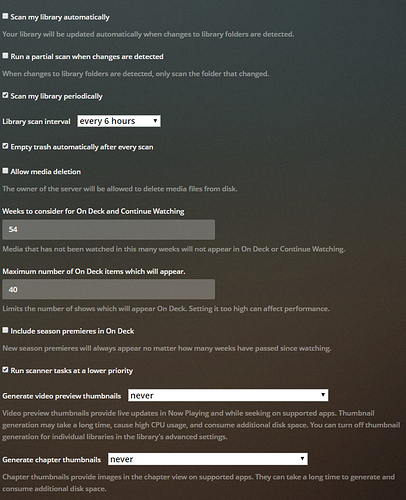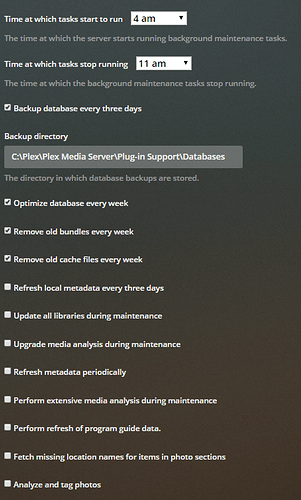 Other info
rclone v1.50.2
Plex Server Version 1.18.3.2156
Windows Server 2019
Google Drive