What is the problem you are having with rclone?
I use 2 OneDrive remotes mounted in Windows and both of them face the same problem: when renaming files or creating folders, after hitting ENTER or clicking outside in Windows Explorer, the file is renamed.
Also, files appear duplicated for some reason when they're modified/created, and you need to go back and forth [in Windows explorer] multiple times.
All of this is cosmetic for the mount and changes are commited as they should in the OneDrive interface.
Google Drive and SFTP backends doesn't face this issue.
I'm not sure, but I think this issue has been first introduced in v1.60.0.
I had this issue through WinFSP 2022, WinFsp 2022.2 and WinFSP 2023.Beta1 (the one I'm currently using). I discard the issue at their side, as I only changed things in my side (upgrade between the different versions) as the last resort step to troubleshoot this issue, and the bug started appearing after an rclone update.
By looking at debug logs, the issue seems to be when setting permissions. However, I'd like to keep the possibility of running exe files from my rclone remotes. If there are better ways to overcome this limitation (maybe at the fuse level?), please let me know.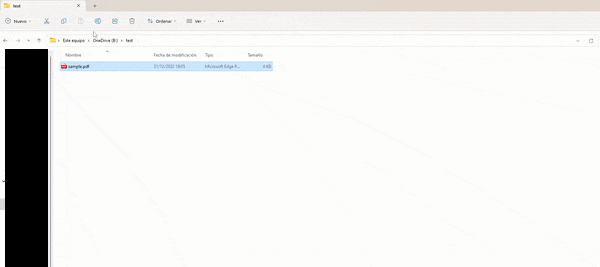 Run the command 'rclone version' and share the full output of the command.
This issue is reproducible in two of my computers (both running Windows 11, but one is Pro and another one is Home), but this is what I get in my main one:
rclone v1.61.1
- os/version: Microsoft Windows 11 Pro 22H2 (64 bit)
- os/kernel: 10.0.22621.963 (x86_64)
- os/type: windows
- os/arch: amd64
- go/version: go1.19.4
- go/linking: static
- go/tags: cmount

Which cloud storage system are you using? (eg Google Drive)
OneDrive remotes (I have OneDrive personal and OneDrive for Business), both face the same issue
The command you were trying to run (eg rclone copy /tmp remote:tmp)
mount --file-perms=0777 --volname "OneDrive" --vfs-cache-mode full --cache-dir "E:\Archivos de Programa\rclone\cache" --network-mode OneDrive: B:

The rclone config contents with secrets removed.
[OneDrive]
type = onedrive
drive_type = personal
expose_onenote_files = false
token = REDACTED
drive_id = REDACTED
client_id = REDACTED
client_secret = REDACTED

A log from the command with the -vv flag
This paste has been obtained by running the above command as is (but adding the flag). The followmg has happened:
A file has been renamed by adding a 'hello'
Renamed it back to the original
Create a new 'hello' folder.
Remove that folder
Create 'hello.txt' file
onedrive_error.log (228.3 KB)