As a rsync beginner, I am not sure if this is a bug or a normal behavior of my setup.
I am doing "sync" of borgbackup repos from my Linux PC to B2 Backblaze. My internet connection speed is 50 mbps (upload and download). The source directory is a networked drive at my home, mounted as CIFS. The connection speed in my home network is 100 mbps (i.e. 2x faster than my outside connection).
When I start uploading, a few small files are always uploaded first and then rclone starts uploading big files. See the attached screenshot: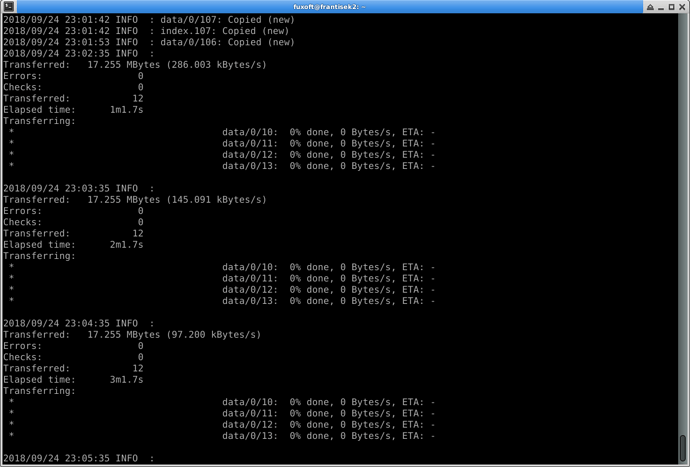 The 4 upload threads stall at zero progress, while outbound internet connection stays contant at about 0.05 mbps (i.e. almost stopped) and inbound internet connection is at 100 mbps (i.e. maximum from my local networked storage). This situation keeps constant for about 4 - 5 minutes, while all upload threads show clean zeroes. After 4-5 minutes, the upload starts at full speed (50 mbps) and finishes correctly. The delay is ALWAYS 4-5 minutes, regardless of the size of the uploaded repository (e.g. 1 GB vs 25 GB, the initial delay stays the same).
Is this normal amd caused by my source drive being on the network? Can I speed things up using some configuration options?
Thanks