What is the problem you are having with rclone?
When listing an S3 bucket, the command has a huge memory consumption and eventually run out of memory.
Run the command 'rclone version' and share the full output of the command.
rclone v1.61.1
- os/version: darwin 12.5.1 (64 bit)
- os/kernel: 21.6.0 (x86_64)
- os/type: darwin
- os/arch: amd64
- go/version: go1.19.4
- go/linking: dynamic
- go/tags: cmount

Which cloud storage system are you using? (eg Google Drive)
S3 @ AWS
The command you were trying to run (eg rclone copy /tmp remote:tmp)
  rclone \
    lsf \
    -R \
    --format "pts" \
    --separator "," \
    --absolute \
    --files-only \
    --timeout 1800s \
    --use-server-modtime \
    --max-age 2022-09-11 \
    --include-from filters.txt \
   source:bucket

# filters.txt
prefix**

The command eventually run out of memory. The memory consumption looks like this: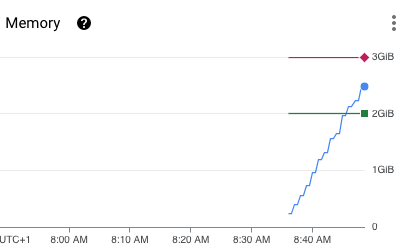 There are a LOT of files at the root of bucket.
The filter matches 2 "directories":
To be noted that the same command with the 1.59.0 seems to consume less memory (although too much IMO):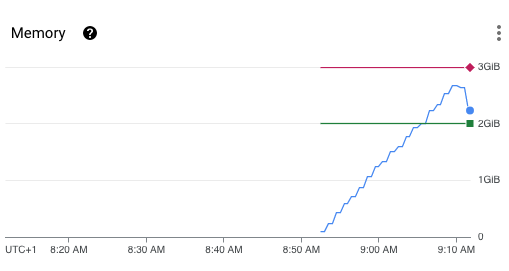 It's less steep and eventually reduce whereas with 1.60.1 it just explode.
I'm not sure why rclone would need to consume that much memory when it's supposed to just output what it paginates over with filters applied.
The rclone config contents with secrets removed.
[source]
type = s3
provider = AWS
endpoint = 
region = us-east-1
access_key_id = XXX
secret_access_key = XXX

A log from the command with the -vv flag
It paginates until it run out of memory:
2023/01/10 08:46:57 DEBUG : GET /bucket?continuation-token=XXXXX&delimiter=&encoding-type=url&list-type=2&max-keys=1000&prefix= HTTP/1.1
Host: s3.us-east-1.amazonaws.com
User-Agent: rclone/
Authorization: XXXX
X-Amz-Content-Sha256: XXXX
X-Amz-Date: 20230110T074657Z
Accept-Encoding: gzip