Hello Everyone,
Here's an email Google sent me during the night: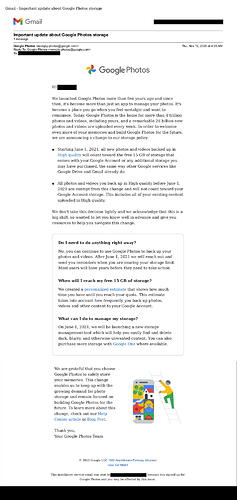 (right-click then "View Image" then zoom in so you can read it).
Seems Google's really determined to profit as much as possible not only from mining our data and serving us ads, but also by charging for things it so far provided for "free" (ie, for no payment besides access to our data).
So, if you upload a ton of pictures to Google Photos, better get ready to start paying for additional space (unless you are on an "unlimited" account, but seems those too are getting more expensive / harder to get).
If anyone knows of a good/free/convenient alternative, please post below. TIA.
Cheers,
-- Durval.