Hi,
I'm getting many warnings about event ID 0 in Event Viewer when I run rclone to sync with my Azure cloud.
The description for Event ID 0 from source E:\rclone\rclone.exe cannot be found. Either the component that raises this event is not installed on your local computer or the installation is corrupted. You can install or repair the component on the local computer.
Here is a screenshot of one of these events: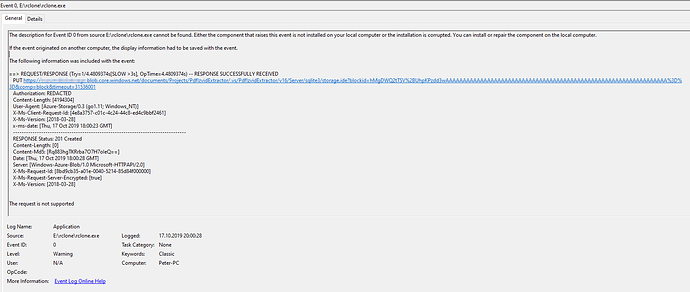 Example command that I use:
E:\rclone\rclone.exe sync documents: azureblob:documents -v --fast-list
where azureblob is of type "azureblob" and documents is just alias for local folder
I'm using:
rclone v1.45
os/arch: windows/amd64
go version: go1.11
Anyone else getting these?
How can I fix this?