What is the problem you are having with rclone?
Upload to Box.com (via a crypt) not saturating local BW or CPU. See attached screenshot of the network traffic graph: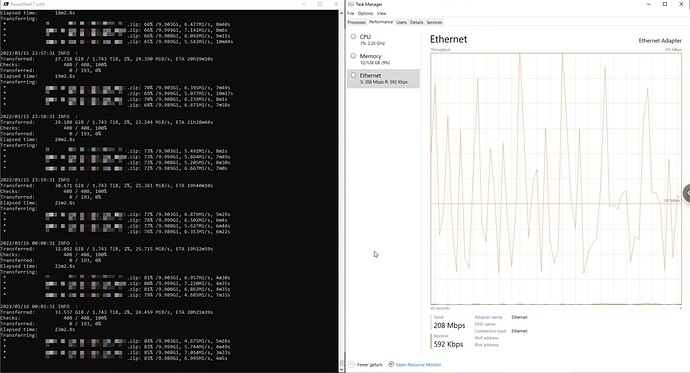 Run the command 'rclone version' and share the full output of the command.
rclone v1.57.0
- os/version: Microsoft Windows Server 2019 Datacenter 1809 (64 bit)
- os/kernel: 10.0.17763.2366 (x86_64)
- os/type: windows
- os/arch: amd64
- go/version: go1.17.2
- go/linking: dynamic
- go/tags: cmount

Which cloud storage system are you using? (eg Google Drive)
Box via crypt
The command you were trying to run (eg rclone copy /tmp remote:tmp)
> .\rclone -v copy 'D:\Downloads\2022 01 05 Photos\' 'Box_crypt:2022 01 05 Photos\'

The rclone config contents with secrets removed.
[Box Business]
type = box
token = {"access_token":"x","token_type":"bearer","refresh_token":"x","expiry":"2022-01-16T00:49:48.1088065Z"}

[Box_crypt]
type = crypt
remote = Box Business:Photos
filename_encryption = off
directory_name_encryption = false
password = 
password2 = 

A log from the command with the -vv flag