Hello.
I have a gdrive mounted with rclone and fronted by an http web server. This in turn is fronted by a CDN with large file support enabled so the files are read in chunks (byte range requests) ranging from 2 to 5 megabytes. The mount implements vfs caching with files going to a dedicated NVME drive.
I'm trying to fine-tune the settings to optimize read latency and reduce iowait as much as possible. These are the relevant settings that the mount is running with:
  --vfs-read-chunk-size=64M \
  --vfs-read-chunk-size-limit=2048M \
  --vfs-cache-max-size=500G \
  --vfs-read-ahead=256M \
  --cache-dir=/mnt/md0/cache/rclone \
  --vfs-cache-mode=full \
  --vfs-cache-max-age=720h \
  --buffer-size=64M \
  --dir-cache-time=168h \
  --use-mmap \
  --async-read=true \

While this seems to work, iowait is a bit higher than I'd hope: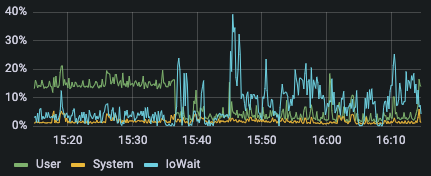 Without that much network activity:
Are there any recommended settings that I'm missing? Any recommended changes to any of the settings that I already have?
Also, can I get a confirmation that the chunks will likely be read from disk/memory and not generate additional network requests back to gdrive with the current flag choice (especially around buffer-size, vfs-read-chunk-size/limit and vfs-read-ahead)?
Thanks