Hello, I'm the Chinese who want to use Rclone to manage Aliyun,some time ago I ask you some questions on github.
Now I can almost use all the functions,but there are some problems with sync,the following is a description of the details:


When I first synced the contents of the bucket to the local,it can be successful.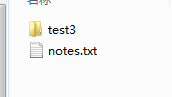 When I second synchronized,the folder in the local will disappear.


When I sync again,The folder appears…
It just keeps repeating.
This problem only occurs when synchronizing between local and bucket.
I feel helpless,I do not know how to start solve this problem,what do you think which part has problem?