What is the problem you are having with rclone?
I seem to be having a weird problem with rclone. Apparently it was having some problems uploading to one of my remotes for a little while and left around 10TB of temp files on the remote, but they can't be seen by ncdu -e nor can I find them with ls -a (I didn't think that was possible). ncdu shows 1TiB and 779 files, but the uptobox web interface says 11.6TB and 3,455 files. The files don't actually show up in the web interface though. Any idea how to get rid of these temp files? I only know about their existence because uptobox support showed me a screenshot of four of the temp files in the root directory.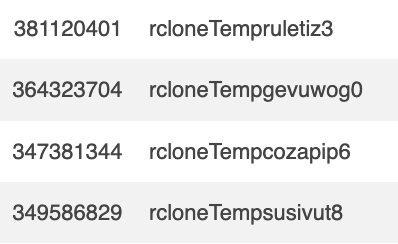 Run the command 'rclone version' and share the full output of the command.
rclone v1.59.2
os/version: debian 10.13 (64 bit)
os/kernel: 5.10.0-0.bpo.7-amd64 (x86_64)
os/type: linux
os/arch: amd64
go/version: go1.18.6
go/linking: static
go/tags: none
Which cloud storage system are you using? (eg Google Drive)
Uptobox
The command you were trying to run (eg rclone copy /tmp remote:tmp)
[Unit]
Description=RClone Uploader

[Service]
Type=simple

ExecStart=%h/bin/rclone move %h/Stuff/Local utbcrypt: \
    --config=%h/.config/rclone/rclone.conf \
    --drive-chunk-size 64M \
    --tpslimit 10 \
    -vvv \
    --delete-empty-src-dirs \
    --fast-list \
    --use-mmap \
    --bwlimit 30M \
    --transfers=2 \
    --checkers=4 \
    --drive-stop-on-upload-limit \
    --exclude "files/**" \
    --exclude "media/**"

StandardOutput=file:%h/scripts/rclone_uploader.log
Restart=on-failure

[Install]
WantedBy=default.target

The rclone config contents with secrets removed.
[gdrive]
type = drive
client_id = *********
client_secret = *********
scope = drive
token = *********

[uptobox]
type = uptobox
access_token = **********

A log from the command with the -vv flag
The log file is absolutely massive with mostly no errors. I will paste one of the errors below. It happens 3 times in the log file. Even one error is too big to fit in pastebin's 512KB size limit so I removed most of it as it just seems to repeat.
https://pastebin.com/pZ9uVCyc